Flags for Heroes
Flags for Heroes is a program celebrated across the nation highlighting and paying tribute to our brave men and women in the Armed Services. Whether we are supporting our Active Duty Military, the Veterans in our local community, or remembering those we have lost, Flags for Heroes is a program devoted to shining a light of love onto these fine Americans who fought and continue to fight for our Freedom. The Rotary Club of Sylva is proud to be bringing this program to our amazing community. Please join us in honoring our Military and showcasing Patriotism here in or home town. Don't have a Service Member in your family? Become a Sponsor to show your Patriotism and Support for our local Military Men & Women.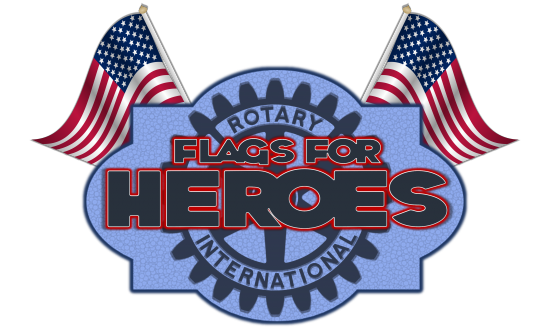 How It Works - Join the Flags for Heroes Program by adopting an American Flag. For an annual donation of $50 The Rotary Club of Sylva will purchase and maintain a flag on your behalf in dedication to a Military Veteran or Active Service Member in your Family. Your Flag will be displayed in Field of Honor events conducted in the community by The Rotary Club of Sylva. Your renewed annual donation will keep your flag flying for years to come.
Field of Honor - Multiple times throughout the year The Rotary Club of Sylva will host Field of Honor events. During these
events ALL of the Flags for Heroes adopted in our community will be placed on display together for all to see. These displays will be public and the events will be advertised in the local media. Everyone will be invited to come out to the Ceremony.
STEP 1) Fill out this form, click Submit
STEP 2) Click to purchase your Flags for Heroes